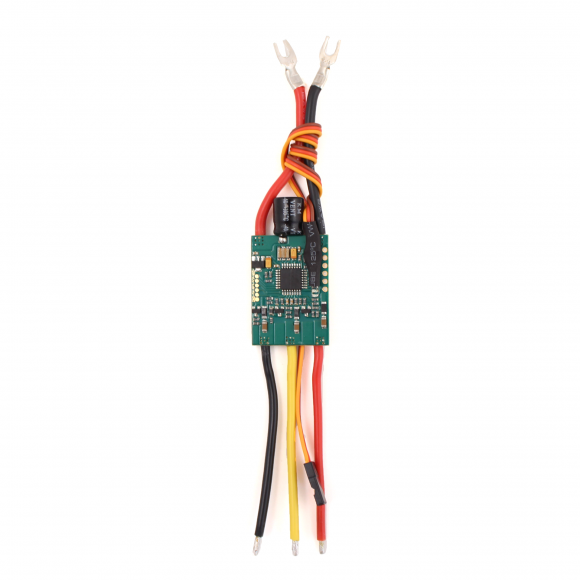 BlueROV2 Basic 30A ESC
A simple electronic speed controller for the T100 and T200 Thrusters. This version comes with connectors specifically for use on the BlueROV2.See the normal version here.
Out of stock
Key Features
Simple, robust brushless electronic speed controller
High speed update rate up to 1,000 Hz.
Forward/reverse rotation direction for forward/reverse thrust
Open-source, reprogrammable firmware to allow custom changes
Resources
The firmware for this ESC is open-source and available on the BlueRobotics Github page.
You can also download the compiled hex file here:
Specifications:
Parameter
Voltage
6-17 volts
Current
30 amps
BEC (provides 5V power)
0.5 amps
Power Connectors
Spade Terminals
Motor Connectors
Tinned Wire Ends
Signal
Pulse-width (PWM)
Max Reverse: 1100 μs
Stopped:       1500 μs
Max Forward: 1900 μs
Deadband:   1475-1525 μs
Length
2.0 in
50 mm
Width
1.0 in
25 mm
Thickness
0.4 in
11 mm
Weight
0.06 lb
27 g
Reviews
There are no reviews yet.